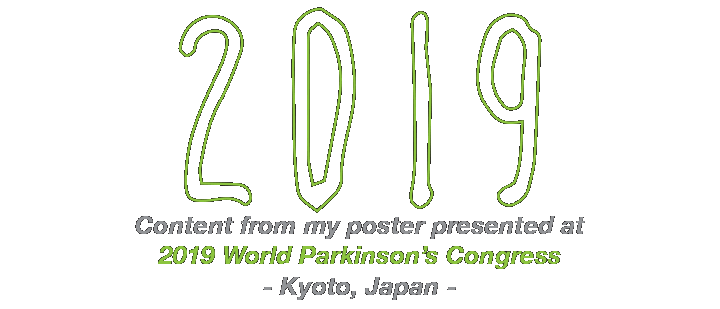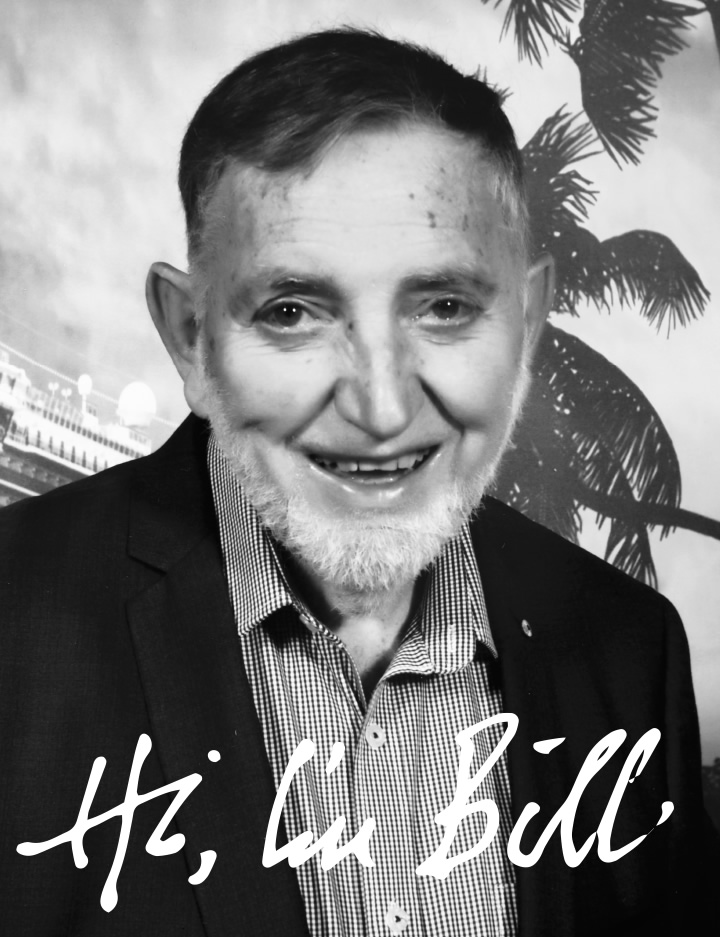 > William (Bill) Curnow AM FRAIA, Australian Architect & Professor, now retired

> 80 year old still on a mission to change the world - avid Citizen Scientist

> In 2003 diagnosed with PD (rigid form) - unable to write, poor walking ability

> 16 years later Iím still walking, talking, writing & driving - Iíve even handwritten & hand-drawn the content (headings, notes, diagrams etc) on this website

> Better now than prior to life-changing antibiotics in 2011

> Attended WPC in Glasgow 2010, Portland 2016 & Kyoto 2019

> Iíd love to be in contact with you and am happy to answer any questions - margbillcurnow@yahoo.com.au




2003 / Unable to write, poor walking ability. Diagnosed with PD (rigid form).

2003 / My journey as a Citizen Scientist with regards to PD began. I actively sought out research programs to participate in.

2010 / At WPC Glasgow 2010 there was no mention of potential link between gut bacteria and PD, considered to be purely a brain disfunction.

2011 / I completely lost my PD symptoms for at least 2 weeks after a heavy course of antibiotics including Flagyl infusion. Medical Researchers skeptical even though they filmed me doing practical tests I could not do prior.

2012 / Established ad-hoc PD research group with some of the best medical minds in Australia. Iíve always been proactive.

2016 / Presented my findings in a poster at WPC Portland 2016 - the only poster that mentioned the gut. There were only 2 papers relating to the gut - both Hot Topic subjects.

2017 / No longer taking antibiotics due to Peripheral Neuropathy. Constipation returned & PD got worse.

2017 / Fecal Microbiota Transplant. No noticeable improvement.

2018 / PD symptoms reduced following antibiotic treatment for pneumonia & impacted bowel. Only lasted a fortnight.

2019 / Dr Jim Aylward suggests Golden Kiwi Fruit as a way of modifying the gut. It reduced constipation. Microba tested gut bacteria before and after diet change. Results show significant improvement in bacteria diversity - shown on the graph below.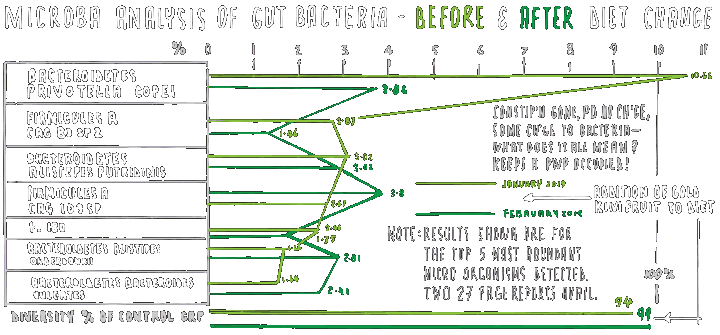 The modern human is subject to infinitely more challenges to the autoimmune system than 100 years ago. Therefore we need to tackle PD in a collaborative method, drawing on the expertise of many professions, not forgetting the people with PD themselves as they have the greatest motivation of all.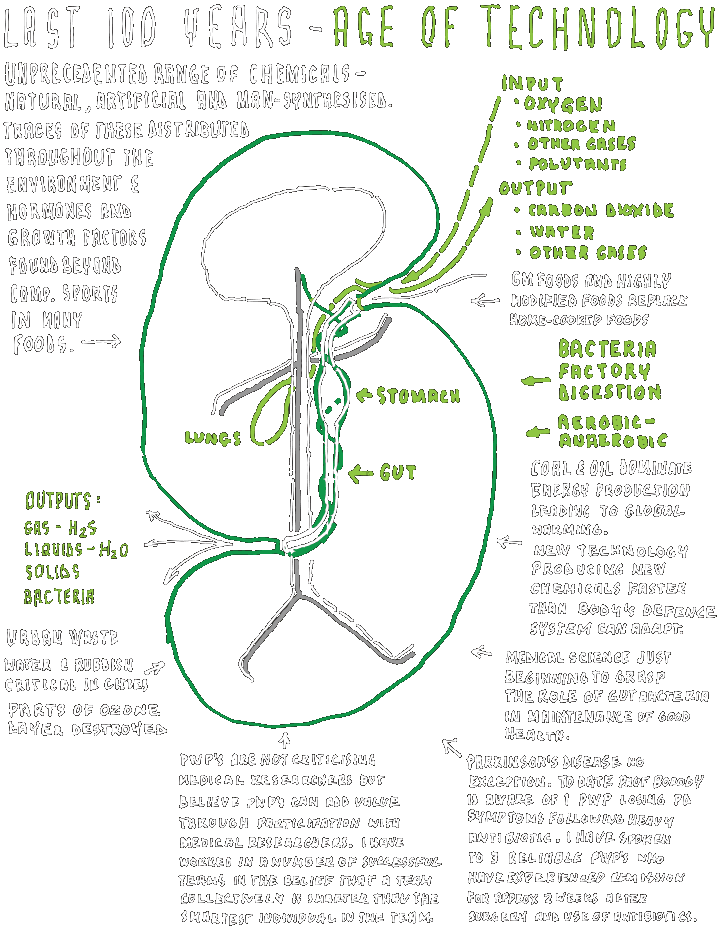 In 2016 ad-hoc team of Curnow (PWP), Borody, Aylward, Silburn, Codd et-al reported research suggesting linkage between gut biome and PD.

Group focus is now on impact of various foods on gut biome and attempting to find linkages between food, biome, health.

Group knows of 4 reliable PWPs whose PD responded positively to antibiotic treatment.

We now need to identify the bacteria that was disabled by the antibiotics, and find ways to do so without the use of antibiotics.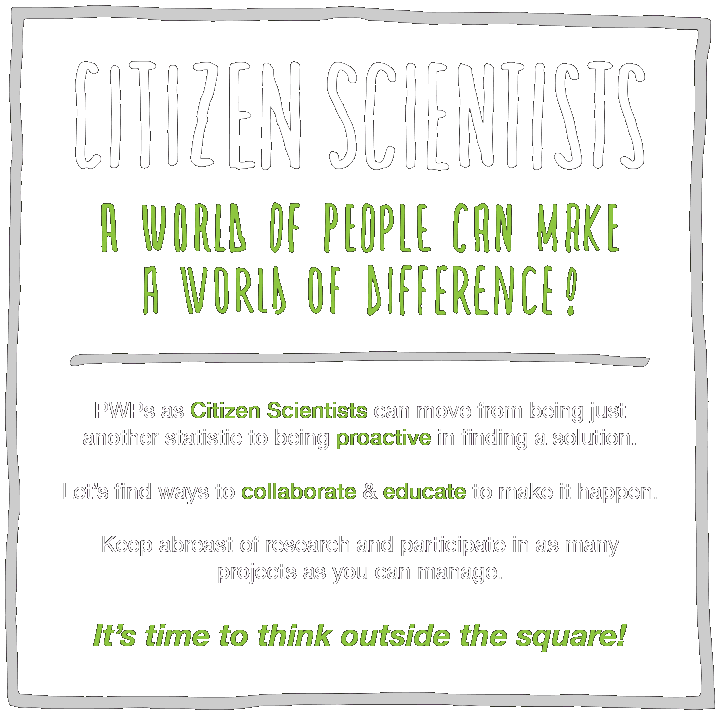 It is 16 years since I was diagnosed with Parkinson's Disease and many areas of my life are much improved over what they were when first diagnosed in 2003.

I realised that most of the research was about treating symptoms and did not attempt to identify the root cause. Unless you understand the true nature of PD you canít hope to cure it or prevent it from happening in the first place.

So I sought to participate in research projects and latterly in projects of my own making. Although I canít claim to have cured myself, I have benefited from my research, extending my capacity for life far beyond that which one might reasonably expect.

The process has lead me to use the term Citizen Science, and perhaps my successes will generate interest in the wider PD community to join in the process. Will you become a Citizen Scientist too?

Although this may be interpreted by some as the placebo effect, one canít argue with the results. Iím living proof.




The medical research profession has been grappling with PD for 200 years without serious break-through.

People with the greatest motivation to make that break-through are PWPs, their carers, family & friends.

All are capable of being Citizen Scientists.

Access to information and other PWPs is readily available thanks to the internet - websites, email and social media.

Groups can access likeminded people and participate in amateur but legitimate research.

The process of Citizen Science greatly multiplies the chances of finding break-throughs by intention or serendipity. The more pairs of sharp eyes observing and scanning the information the higher the likelihood of finding the elusive clue to cracking the secrets of PD.

As the amount of different chemicals continue to multiply exponentially the number of possible interactions between the human, his/her biome and the environment are seemingly endless. We need as many Citizen Scientists on the task as possible.




We need to think outside the square in our approach. We need people capable of putting multidisciplinary teams together to look at complex problems.

Australian General Sir John Monash took the three disparate arms of the British Empireís defence force and by integration caught the enemy by surprise, turning the tide of WW1. We need a John Monash - that might be you - to lead people with PD, their careers and medical researchers to work collaboratively so that we can turn the tide on PD.




The information contained on this website is the personal experiences of Bill Curnow, who has acted in partnership with his medical specialists. We advise everyone to consult with their medical specialists before, during and after any unilateral action.


Behind The Scenes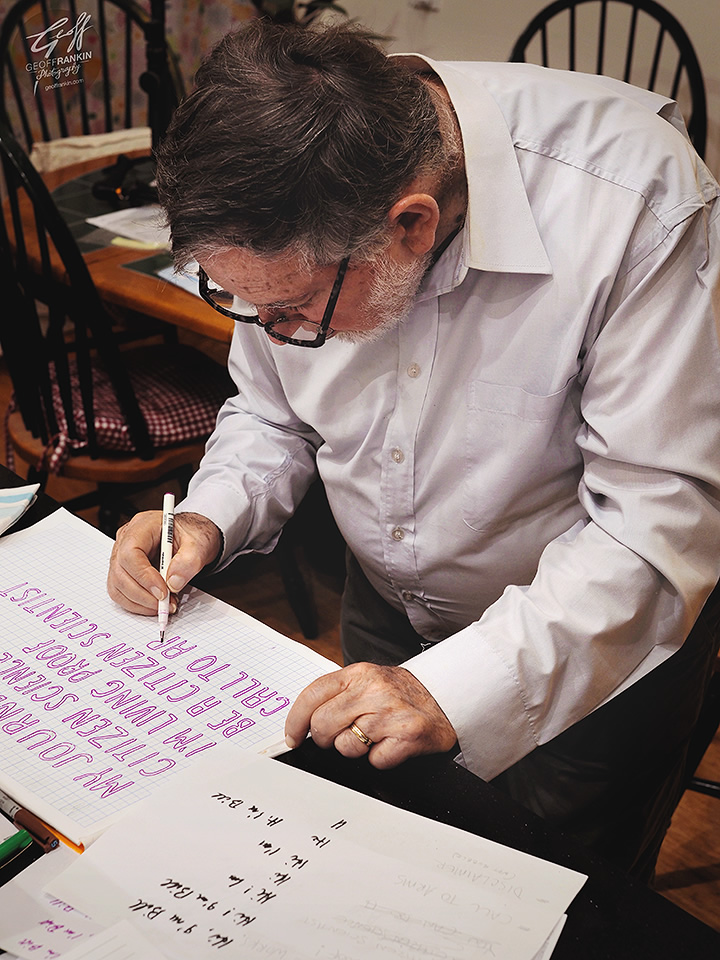 A photo of me hand-drawing some of the above headings, May 2019. Geoff then digitized them for the poster & website.